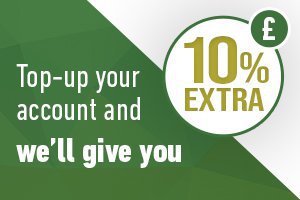 During what is a difficult time for us all, we know that plenty of you are eager to get back playing once it is safe to do so. When this time comes, we want to give something back to you as a way of saying thank you for your continued support whilst the Pro Shop was shut, and this is how we plan on doing that.
If you top-up your Pro Shop Account during the promotional period set out below, we will add an extra 10% to your deposit! For example, if you top up with £100, we'll turn that into £110.
As the Pro Shop is currently closed, just let us know how much you'd like to top up your account with below and we'll get in contact with you to confirm everything and take payment.

If you have any questions, please send us an email.